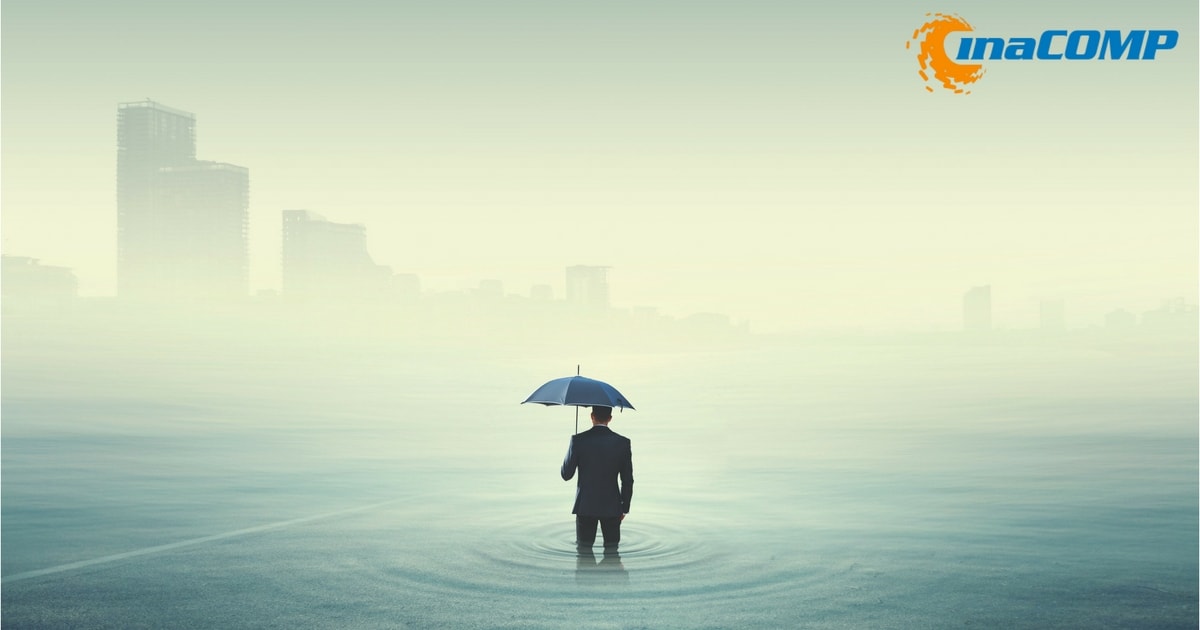 Working for a legal firm that bills by the hour, you know that time is quite literally money. Every hour your associates can't work due to technical difficulties equates to revenue loss. In fact, if a firm with 50 staff members and an average billable hourly rate of $175 is down for even a day, the company could lose up to $70,000 in billable revenue.
Prevent costly productivity losses and carve out a long and prosperous career for yourself by critically assessing your current disaster-recovery plan.
The Importance of Quick Recovery
At the very least, you probably have a backup solution in place. But how current is that solution? At InaCOMP, we find that many legal firms hold on to outdated backup solutions that won't provide them the best recovery time in the event of a disaster.
Let's consider a tale of two legal firms.
Both had backup solutions in place, and both were the unfortunate victims of a ransomware attack. The first used a two-pronged approach, which included a cloud-based backup solution as well as off-site backup.
Both companies used the same cloud backup service. But the second firm relied solely on the cloud backup solution for recovery.
Unfortunately, there had been a glitch in the most recent update of the cloud solution that prevented nightly backups from occurring while also failing to notify the firms' IT teams of this flaw.
Both firms were missing a week of data (estimated to be worth $250,000 – $350,000) from their cloud backup solution. Important cases were about to go to trial, and the timing of the outage couldn't have been worse.
Firm 1 partnered with their managed service provider to purge the ransomware infection and restore data from their off-site backup solution.
Firm 2 wasn't as fortunate. Seeing no way to restore the previous week's worth of invaluable data that couldn't be replicated in time to support impending cases, they scrambled to purchase bitcoins and pay the cybercriminals the $15,000 requested.
Instead of releasing the firm's data as they'd agreed to, the perpetrators of the ransomware attack requested $30,000 more to release their data.
Realizing this was a losing battle that would only further the ability of those criminal to harm others, Firm 2 refused to pay the second ransom and lost a week's worth of data. All in, the company lost an estimated $310,000 in revenue due to the attack.
Protect your firm's revenue streams and data by having a hybrid backup and recovery solution in place to fully restore all mission-critical data quickly.
Beyond Natural Disasters
As evidenced by the example above, it doesn't take a natural disaster to knock out a network. A ransomware attack, accidental sprinkler system activation, or disgruntled employee could do the job just as well if you don't have a disaster recovery solution in place.
What a Good Disaster Recovery Solution Looks Like
If this post has you thinking that it's high time to consider adding a disaster recovery solution, here are a few things to keep in mind:
Ensure Backup Data is Encrypted
Regardless of whether you're backing up your data to the cloud, another off-site physical location, or (better yet) both, encryption needs to be considered. That backed up data could fall into the wrong hands in any number of ways, and ensuring all data you back up is encrypted will prevent unauthorized persons from accessing your sensitive files.
Confirm Backups Are Successful
Many companies don't routinely review the outcome of backup attempts. Putting measures in place to confirm backup attempts capture all the desired data securely—and in a format that's easy for authorized parties to restore—is essential.
Include All Mission-Critical Systems in Your Disaster Recovery Plan
Disaster recovery planning extends far beyond backup solutions. A good disaster recovery plan should enable you to get all mission-critical systems back online quickly. Not every device in your environment needs to be immediately recoverable, but key systems—like electronic mail, VoIP telephone systems, and servers—should be back online quickly to minimize revenue loss.